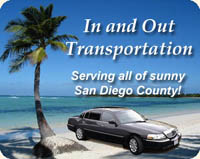 In and Out Transportation is San Diego's premier transportation service. We have a well maintained fleet of high end luxury Lincoln Town Car sedans (4 passenger) and shuttles.

Our experienced drivers provide transportation for San Diego County residents, tourists, and businesses.

Please look through our web site for more information about our company, our services, and our prices.
You may call to make a reservation at (858) 279-5110 or (858) 752-3329.
In and Out Transportation
3538 Ashford Street
San Diego, CA 92111
(858) 752-3329
In and Out Transportation
5663 Balboa Ave, Suite 405
San Diego, CA 92111
In and Out Transportation
North County Office
(760) 743-1295
We get you In and Out FAST